My husband Constantin asked me "what do you want to do for your birthday this year?" I replied: "I am a fish (Pisces) I want to be in the water with my "family" where I feel at home. So this is how we got to go to the beautiful Big Island of Hawaii. But before going on our vacation we "accidentally" bumped into a scuba diving center and as everything happens for a reason we got Scuba diver certified just two days before going to Hawaii.
I will always remember my first breath underwater, the scuba diving instructor and his energy. He loves the yellow color and there is no coincidence his aura is yellow as he is a great teacher/ instructor (all great teachers and masters have the aura yellow). We got certified in rough conditions in Lake Mead: in 4 feet waves, thunders, lightings, 2 feet visibility underwater, 53F water temperature I was freezing cold, tired and frightened. I was ready to quit when Constantin gave me what's called "wings" "come on you can do it". Yes we both did it!
Time to go to the Big Island of Hawaii
- "the umbilical cord of the universe" (quoting Len Horowitz)
We noticed one of our luggage was way too heavy, orgone gifts can be heavy. The woman who checked our bags told us we have to pay extra for one of our bags. The machine who supposedly prints out the fee didn't seem to work while I was boosting. However I gave it up seeing that woman so frustrated and said to myself "lets pay this time", so she finally printed a ticked out after numerous attempts…and we paid for the extra pounds. On our way back we noticed again one of our bags being over the 50 lbs limit. This time I started a serious boosting and asked God to reward our efforts by not paying for the luggage. The young man at the luggage check in let us go without paying.
Boosting
works! The law of attraction flows thru us continuously.
While on the plane to Hawaii I watched the skies and the funniest thing I noticed was, two sylphs waving at me. At first I had to close my eyes and then reopen them to see if that's real. As we were about to land to Kona Airport I could feel the island's orgone energy vibrating strongly in my hands. The west part of the island has a great energy.
We stayed at the
Kona BayView Inn Farm
a beautiful bed and breakfast with view of the ocean. Pat, the host is a wonderful woman with whom we bonded really well. On the good side there is free wireless Hi Fi internet connection, but even better, there is no TV on the property. Imagine waking up by birds and roosters, doing yoga on the grass while watching the ocean, smell the sublime perfume of the primeria and other flowers, eating papaya from Pat's property, drinking Kona Coffee! Pat complained about not getting enough water the last couple of weeks and guess what since we started gifting the Island it rained daily!!!
Getting in the water with the dolphins- Kona Coast We went on a "swimming with the dolphins" tour with Michael Yee (China). We usually stay away from all sort of tourists attractions but this one was really tempting and we are happy with the choice we made.
Sunlight on water
is a great tour we would recommend. Michael (China)Yee the owner of this small business has a great love and respect for the dolphins, whales and all creatures that inhabit the Hawaiian waters. I was impressed with their concern for the dolphins.
He introduced me to his wife, Melainah who was waiting at the harbor. Melainah and I connected immediately, we were suddenly "speaking the same language" - the dolphin lovers language. She mentioned she heard about our website thewomenwarriors.net, which I find interesting. She heard about chemtrails but never seen one. Well, the whole time we stayed in Hawaii we haven't seen a chemtrail plane in the sky, although we watched the skies really close. We ended up our conversation hugging each other hoping to meet again soon in etheric realms.
Before departing for our amazing journey Mike blew his bamboo 4 times clockwise starting from east, the rising sun, to honor all four directions. He then asked everyone to get grounded, centered, reach and hold hands saying a prayer to all of creation using deep breathing. This was very similar with the
boosting (sending energy)
we are doing in our
boosting chat sessions
. We asked permission to enter the water, for protection and blessings, sending love to the dolphins and sea creatures.
We brought
orgone gifts
(dolphin balls and dolphin hearts) with us making sure the ocean and its inhabitants will accept them with joy and love.
Soon after we left Honokahau harbor, I started my meditation to communicate with cetaceans and other sea creatures. After I finished my meditative call, a huge whale showed up very close to our boat energizing and welcoming everyone on the boat - "welcome to our waters, enjoy the journey of today". Superb!
Right after whale's greetings two manta rays showed up. We entered the water and swam with them. They are very delicate and gentle creatures.
We encountered a big pod of approximately 250 dolphins and entered the water to swim and connect with them. They usually come inshore during the day to rest and play along Kona Coast. It's important for their well-being to rest, so people who swim with them need to give them plenty of space, never chasing or touching them, swimming with arms to the sides. Dolphins are very affectionate, intelligent creatures and they usually initiate communication.
Swimming with them was breath taking. In fact we did not swim with them, they swam with us. Each leap, jump, spin, swimming next to us, brought love and joy into our hearts, making my whole body vibrate. They will initiate communication by nodding, moving their heads gently up and down into a hello motion. We replied "Hello" by doing the same. The beauty and splendor of their circle swim made my mouth drool underwater (this was something else). Their singing is very soothing and healing. I had water in my ears from previous scuba dives and as soon as I got home and listened to the video clip Constantin took, my ears unclogged immediately.
Here you can watch the short video clip here:
http://www.youtube.com/watch?v=K9ZGxLsigos&eurl=http://www.natures-blessings.org/whales.htm
I saw the dolphins dancing in a figure 8 pattern with enthusiastic optimism in front of our boat while I was watching them in amazement. It seemed they were gifting us, charging and activating our DNA.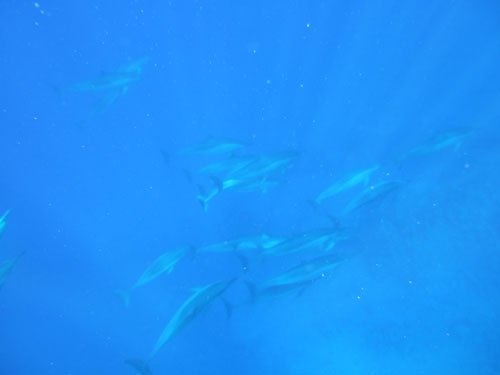 Even if they came very close to us while in the water I got that Constantin and I needed to be with them by ourselves. We decided we were going to rent a kayak next day and try to get in touch with them again. I just knew they will be coming at Captain Cook as I asked them to show up. Our host Pat told us they didn't show up the last couple of weeks at that bay. Next day, we paddled towards Captain Cook.
They didn't let me down on my birthday!!! I got chills up and down my body and I knew they were waiting for us in the bay. They offered us all kind of spins, leaps, jumps, showing off, swimming in beautiful endless variations and patterns, keeping us mesmerized with their delicacy, circling us continuously.
Constantin showed one of them a
dolphin ball
. Soon he came really close to him very curious. I think it was the same dolphin who came close to him inviting to join and watch the playful flipping in circles and splashing water. He wanted to teach Constantin a "spinning" lesson, perhaps. Constantin got so excited that he hit his head on the kayak several times.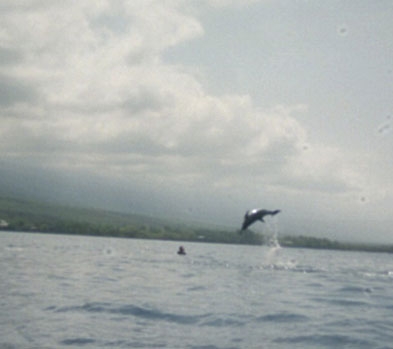 Constantin taking a picture of his playful friend
I will never forget the eyes of the two dolphins and a baby swimming close to me, nodding, hello-ing me. They invited us to swim with them sharing their harmony and joy. Some of them slowed down their swim to interact with us, others swam in circles of love slowly besides us. While watching them underwater I saw these beautiful sun rays which looked like a vortex emanating life force. The dolphin's dance in the rays of vortex was absolutely majestic.
These wild dolphins are not trained by men, their flips and jumps were natural, offering us a "free" show. An equal exchange of love and energy between us and them took place.
Here you can watch two more dolphin video clips shot on Feb 24 and Feb 25.
http://www.youtube.com/watch?v=DtmpHLjNmGw&eurl=http://www.natures-blessings.org/whales.htm
http://www.youtube.com/watch?v=UprMqZq13Ms&eurl=http://www.natures-blessings.org/whales.htm
Whales opening portal of healing - meditation
It was the day when we heard the
whales singing in the water
during our scuba dive. For their great singing to us we offered them
orgone gifts
. While Constantin was taking pictures of the sunset, amusing some people, I was watching his glowing aura and beautiful colorful orbs around him and other people. I then looked towards the ocean, watching the sun go down, feeling great peace, getting into meditation mood. I connected with the
dolphin ball
gifted few hours ago when suddenly I saw in the distance whales' blowing. I heard them clairaudiently calling me, feeling their sound resonating deep inside my heart, penetrating each cell of my entire body. First thing I got from them was: "
we are the peace keepers of the planet
".
Next I heard the words "
from time and space
" and in a split second I was out of body. I saw dark and in the middle the most beautiful color orb which took me to a portal underwater. Everything went really fast. However I remember seeing a mermaid and a very big beautiful cobalt blue fish which at the time I thought was a sword fish, leading me into the portal. I don't remember much, except seeing the whales very clear.
My head started to spin clockwise (see the
dolphin meditation
) while I was getting cleansed and healed. Old sadness and tension were releasing from the past, I was getting two words "release" relax". Now all I could see was the deep blue ocean and could feel my tears going down my cheeks.
It was meant for u sto be in Hawaii on February, 2007 for the portal's opening. Now I understand why I felt the urge to come to Hawaii in February. It is the
portal of healing
, releasing old fears, human ego and old sadness emotions. According to what I was getting from the whales, 2007 is a critical point in time, a year of Awakening and UNITY where human separation from the Creator will be healed. The Creator's vibrations will intensify and be felt and awaken in many people. Many DNA activation will be taking place, purifications will be taking places on Earth as well as people. Many will get in touch with their higher selves, inner beings.
The work we did on "awakening" during our boosting sessions was greatly appreciated and we need to keep doing this work. Prayer warriors, heart warriors, etheric and astral warriors, light workers, energy workers, healers will be joining in UNITY this work in order to raise the vibration of our beloved Planet and help others who are not ready yet to shift their consciousness. After all it's the year of UNITY.
An amazing fact that hit me really hard happened after two days when we were waiting to board the boat for the manta ray night dive. Next to our boat there was a fishing boat and on it was a very large blue marlin fish (362 pounds) which looked exactly like the one who guided me thru the portal in my whale meditation. I was sad to see him dead and immediately got it! The old soul marlin sacrificed himself for me to let me know he existed and what I experienced in my meditation was real, never doubting my impressions or psychic messages I receive. The blue marlin confirmed that the physical plane is just one of the dimensions and whales who are multidimensional beings communicate interdimensionally, so are we.
Mauna Kea Observatories http://www.ifa.hawaii.edu/mko One night during prayer I had a psychic vision about a huge satellite antenna: and received a brain respiration technique for mind control. In our boosting sessions we kept boosting those antennas around the world. One of these antennas is located at Mauna Kea Observatory on the Big Island on Hawaii. Mauna Kea is the tallest mountain in the world when measured from base to peak One of the reasons of visiting Hawaii was to gift this antenna and observatory. Job done! Telescopes found at the summit of Mauna Kea are funded by government agencies of various nations.
http://www.natures-blessings.org/images/Hawaii/Shot.jpg
We arrived at the Visitor Information Center around 4:00 pm, getting ready to go to the summit. However the rangers wouldn't let us go to the summit, 4 wheel drive required due to a hail storm two hours prior to our arrival. Ouch! We asked people around if they had more room in their cars to take us up and it seemed like no one had room. I thought: we didn't come here for nothing and I started to boost to find a way to go to the summit. Hiking was out of question as it was getting dark, cold and not to mention the 14 mile round trip. Almost instantaneously from the crowd of people I spotted two men who I "knew" they will take us to the summit. . They were from Germany, really nice people who were happy to take us up to the summit. We had so much fun with them, joking about ET's and how these large telescopes watch closely the aliens.
Scuba Diving in Hawaii Our host was
Jacks' Diving locker
very friendly and professional diving operation. We did 6 dives, 5 during the day and one manta ray night dive. On our way back and from the dive locations we encountered different species of whales including pygmy killer whales which are rarely seen.
Pygmy killer whale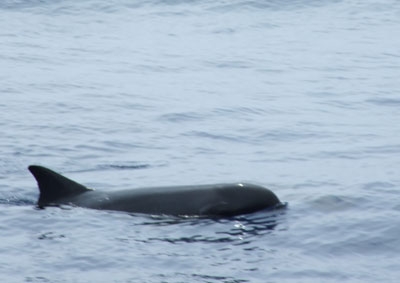 We were very happy with all dives and what we saw underwater. We missed hammer head sharks in the area., the other group we were with, saw them. I haven't seen them but I have a feeling they've seen me. They are not dangerous as most of the people wrongly presume. On the second dive while descending onto the water the whales were singing, I did not hear them the first time due to bubble noise I was making underwater but interesting enough I could hear them psychically after I finished the dive and can hear them sometimes since then. During our dives we saw different sea creatures: Reef fish: butterfly fish, parrot fish, yellow tang, Moorish idol, star fish, goat fish, trumpet fish, garden eels, viper moray, barracuda school. We saw an eagle ray and a green sea turtle. On the fifth dive I could finally hear the whales singing under water, it was DIVINE! Watch our scuba diving video clip here
http://www.youtube.com/watch?v=YqadVGLjj1c&eurl=http://www.natures-blessings.org/whales.htm
Sea turtles - Place of Refuge at Honaunau bay
This whole area is an ancient Hawaiian fishing/religious ceremonial area, a place where the colorful reef marine life is abundant. Green turtles are spotted here frequently.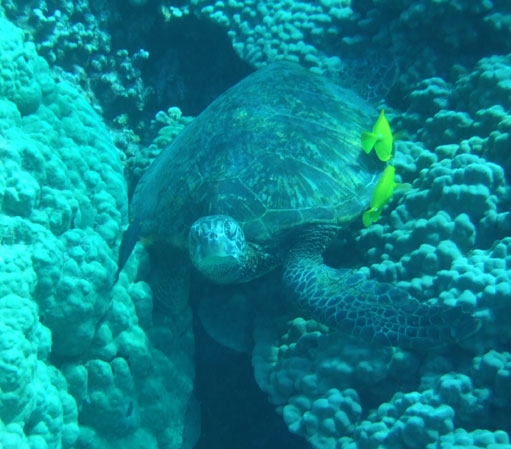 We were snorkeling at place of Refuge admiring the beautiful reef, having fun with the fish, looking for turtles. After about 20 minutes I was getting cold so I told Constantin I am heading to shore. Swimming to shore I finally saw them! Here they were: the graceful and elegant green sea turtles, about 10-15 of them, resting or "flying under water". Suddenly I became warm and energized, so I could spend some more time with them. Constantin shot a good video and took amazing pictures of them. watch the video here:
http://www.youtube.com/watch?v=J2s-t45kZ_U&eurl=http://www.natures-blessings.org/whales.htm
Whenever I think of them, I think abundance and prosperity, I think great wise old warriors, I think longevity.
Manta Ray night dive Mantas
- the birds of the sea- are the largest mantas of the rays. The largest known specimen is been nearly 7.6 meters (25 ft) across its pectoral fins (or "wings") and weighed in at 3,000 kg (6,600 lb).
That was one of the most exhilarating, rewarding, uplifting experience.
watch the video here:
http://www.youtube.com/watch?v=VZ9WQhQnKNY&eurl=http://www.natures-blessings.org/whales.htm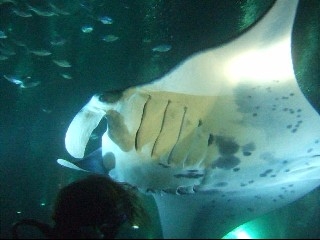 These amazing gentle, graceful giants, shy thou creatures taught me to be brave. The Mantas come to feed after the divers set up a light source that attracts zoo plankton - mantas' food. I had troubles descending onto the water as my masked flooded with water, when diving from the boat, trying to clear that mask out. All divers descended except me, I was about to quit when out of nowhere I felt/saw someone pulling me down. It was the master diver guide helping me to descend as the mantas started the acrobatic show already. WOW! My first impression was OMG! I was spooked but at the same time mesmerized. It was a sublime show with about 30-40 divers from different boats arranged in a big circle pointing the flashlights up where the gentle giants were dancing underwater doing loops as they were feeding. A picture tells a thousand word, in this case it tells a million words. You can watch the short video Constantin took here and you'll get a feel of what we experienced that night.
I was impressed with divers' behavior, everyone kneeled at the bottom keeping their flashlights pointing up, not touching the mantas just observing enjoying the wonderful moment. It was majestic and I felt UNITY. Mantas showed me my true identity.
The very next day I woke up feeling very weak, my whole body aching, having high temperature, couldn't eat anything. I was in this state for few days. Those were
symptoms of DNA activation
, I was going thru an intense cleanse and detox process. Since we came back I dive and swim with those lovely sea creatures every night during my sleep (astral travel) . Those sea creatures' energy is present every night in my dreams. They raised our vibration and touched our hearts
More pictures of our Hawaii trip here:
A message from all sea creatures in Hawaii - I like calling them angels of the sea: be happy, be compassionate, be forgiving, be gentle, be generous, LOVE! I asked the dolphins to communicate and interact with my friends, and all people who are helping in raising the frequency of this planet. I hope they will touch your hearts the way they touched ours.
Mahalo (thanks) to our creator, God source, who gave us the opportunity to be here in this life time.
Blessings, Lilly
http://www.natures-blessings.org/

This is what Constantin had to say about our trip:
This was a wonderful trip. Gifting, dolphins, whales, manta rays, turtles, observatories, just too short . It all started when Lilly browsing the net said this place needs to be gifted. And she referred to Mauna Kea Observatories.
We did gift the place, so as far as I'm concerned from that point everything else on our trip was a blessing. I believe we need to go back to the observatories and spend more time and meditate, but that's on the next trip. It is cold up there and I'm not kidding and if a storm comes in, they won't let you go through unless you have a 4X4. So keep that in mind. I have to mention that we met two German guys, very nice guys, who took us along. We thank them for that, otherwise the observatories will go ungifted, at least for the time being.
Lilly said the dolphins touched me. I have to agree. I was so overwhelmed, in a good way. Especially when they got close to me, I was amazed, stunned, I felt communication. I kinda bribed this dolphin, I had a dolphin ball in my left hand and the camera rolling in my right hand. He was curious and I believe was the same dolphin which came again and did a few flips for me. Apparently they either liked orgone or liked me, or both. It was nice to hear the dolphins communicating with each other and us, I wish I could understand them more. We rented a kayak for one day, but picked it up in the evening, so first thing in the morning we wasted no time to meet our buddies, the dolphins. Instead of returning the kayak in the evening, we paid for one more day, so we met the dolphins again the next day. I can't describe enough our experience with the dolphins, you need to experience it yourself .
I heard of the green turtles being at the place of refuge. For some reason I got so interested, I could barely wait for the sun to come up so we go and meet the turtles. We didn't have the scuba, so snorkeling was the only option. I dove as deep as I could to take pictures and video clips of the turtles, since they were resting on the bottom. Nonetheless my efforts were not in vein. A turtle decided to come close to the surface and graciously swim, letting me to swim along and take pictures and video clips. I swam slowly above and slightly behind being grateful for the granted opportunity, but at the same time I wasn't intrusive. This was a peaceful experience. The dolphins are more like kids, they're playful, the turtles are more quite, if that's the right word. Different connection here. I guess it was the next day when I told Lilly I want to go back to the place of refuge where the turtles are. She was reluctant and then I asked her "did you gifted the place ?" She said no, that's it I said, it needs a dolphin ball. So off we went and I gave the turtles a dolphin ball. Sure enough, Lilly said, you were right, yes this place needed a gift.
Manta Ray night dive was just, majestic, can't find a better word. Could be spooky, could be challenging, could be anything you want but ordinary and definitely MAJESTIC. No wonder is rated the ten best dives. The divers in a circle holding flashlights pointing up trying to hold still due to the heavy surge, the snorkelers on the surface pointing their flashlights down, the huge manta rays coming within inches from the divers, the fish, the bubbles, everyone's behavior not to interfere with the mantas, it was just awesome, it was MAJESTIC. Just watch the video clip and involuntarily you'll be there, you'll be part of it. Better yet, do the dive.
We need to thank to our great hosts for this great trip. We need to thank the people of the Big Island of Hawaii, very nice, happy people.
We need to thank Pat at Kona BayView Inn. This is a quite, friendly and very clean place. This is a place that you always want to come back to. BTW, her breakfast is very good and she is very, very nice and spiritual, despite her being modest not admitting any of this.
We need to thank China (Mike Yee) and his wife Melainah at Sunlight on Water. As soon as we were out of the harbor in open waters, Mike told his captain to stop the boat and shut off the engines. Then he asked permission to get in the waters, prayed to all of us to make the correct decisions, everything to be proper. We all prayed , held hands and got grounded, very important in my opinion. And guess what, everything was proper, the dolphins greeted us, everyone was happy. China (as he likes to be called) and his wife are very spiritual and I felt a bond between the four of us. Swimming with the dolphins with China and Sunlight on Water it is a one of a kind experience. I wish we could share with you the 30 min excellent video made on this swimming with the dolphins trip (it is copyrighted by Dolphin Dreams Images).
We thank all staff at Jack's Diving Locker for being friendly, helpful and professional.
Last, but not least, we thank all cetaceans and marine life for granting us permission to enter the water, for welcoming us, for making us stronger, for letting us be part of their environment and touching our lives.
Ask permission to enter the water, it is their home and you're a guest. Avoid touching marine life, that's dolphins and manta rays also, make the correct decisions and for everyone's sake, behave proper.
Constantin